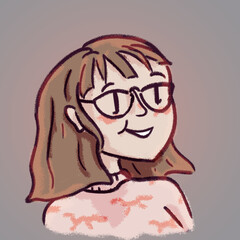 Jennifer Bourke
Game Designer
Troy, NY, United States of America
About
Hi, I'm Jen! I'm a game designer soon to be located in Austin, Texas!! I am currently pursuing an MFA from the NYU Game Center after receiving a dual BS in Game Design and Electronic Arts from RPI. I develop hilarious, beautiful worlds and fill them with wonderful things like game flow and user experience. Please see my work on the "Home" tab, or check out steamedbunnies.itch.io to experience this!!
I can't wait to release my current project, Meat Man, a contemporary dating sim about meeting and eating Meat Man.
Please don't hesitate to e-mail with inquiries!!
Skills
2D Animation
Concept Art
Illustration
Game Design
Character Design
Color
Software proficiency

Unity

Photoshop

C#

Animate

Illustrator
Adobe XD

Maya
Substance Painter
Unreal Engine

Twine

Bitsy

Yarn

Notion